Just seems more feasible they would reach more into Big12 world before getting as far west as us.
You think they are going to let the Big 1G be the one conference that goes coast to coast? You may be right but I don't see them limiting themselves to being a regional conference while the Big 1G is coast to coast.
The joy of being me sometimes is you get to know things. For instance, do you folks know UH damned near jettisoned its entire athletic department and programs? In short, they were bleeding revenues, and seeing escalating expenses for competing, period. Pick the program, it was hemorrhaging money like an artery cut. They had to go to the legislature annually for bigger and bigger money infusions to keep athletics operating.
Getting back into a conference slowed the bleeding a little, but they are almost back to where they were in the early 2000 when the legislature made the school do a deep dive on intercollegiate athletics, to include getting rid of the programs outright.
Hawaii is a small school (around 5,000 students) that doesn't have a lot of non revenue teams to support. Outside of having a monstrous football stadium that was built to lure the Pro Bowl, all other facilities are very modest…like WCC modest. Honestly, their playing FBS football is ridiculous, and football is their biggest bleeder. Travel eats up most of their budget.
Why did I launch out on this tangent? Because of scale, U$C and UCLA just became the Hawaii of the B1G. To quote "Money Mayweather," "they gonna make a lot of money, but they gonna spend a lot of money, too."
The weirdest and saddest thing I saw this summer is the cemetery outside the Aloha Bowl. They moved the football games from there, right?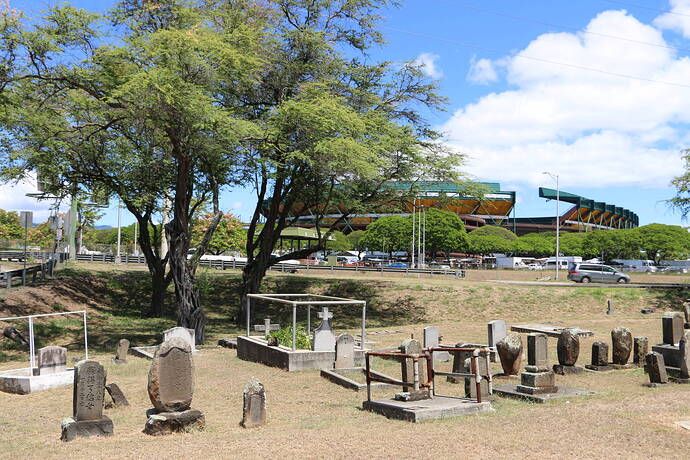 Which is set to be razed. No more Hawaiian Death Turf (trademark UFN)
U$C and UCLA just became the Hawaii of the B1G. To quote "Money Mayweather," "they gonna make a lot of money, but they gonna spend a lot of money, too."
[/quote]
U$C and UGLY will be fine in terms of travel expenses. You don't think both universities considered that before signing? It's an enormous amount of money, enough to buy planes in our case, frequent flyer miles for the bRuins.
FTFO!
It's a fair point, but B1G and PAC12 have historical ties through the Rose Bowl and if they can land ND, they have regular ties to USC and Stanford (among others). SEC reaching west would leave them with lesser programs, but maybe it's worth it for night games. It's just a strong enough brand, but with the B1G new deal, the arms race dictates that a 16 team SEC vs. a 20-24 team B1G would not be enough.
Kind of hinges on ACC - wonder at what point 75% of the schools will vote to dissolve the conference to get out of TV rights and be free agents. I still don't think 16, let alone larger, conferences can last that long, especially if they aren't just football.
Maybe we are heading there, but will it be SEC in the southern half (sans USC/UCLA) and B1G in the northern half, with some overlying conference (Big12/PAC12 amalgamation)? Who knows. Something has to give in the next several years, definitely next 5-10. Like a complete restructure or CFB taking football out of the NCAA.
Playing at any other level though costs nearly the same but with lower income (even MWC income). And FBS like to go there and NCAA granted the 13th game exception to incentivize playing them. But it still is tough. So many good players that come stateside to play with all their struggles. Hopefully Timmy Chang brings some success back to recruiting and winning.
Weirdly, in the last 20 years, 4 teams to win a playoff game or National Title in the Rose Bowl are three from the SEC (Texas once they join, Alabama, and Georgia) and one Pac-12 school, Oregon. Not a Big 1G team or future Big 1G school. It will be interesting to see if someone, that is either a future or current SEC school wins the title in LA at Sofi this season. California trips have been good for the SEC in recent years.
FWIW, I don't see the value for ND to join the Big 1G in their current lineup. It's not a great conference now and the two teams they added are inferior competition with very little draw in terms of TV.
Rose Bowl would not benefit from a Pac vs Old Pac matchup. The nation isn't tuning in to watch a post season bowl of north vs south CA. So while the chance of us v ND is always good…I never want to see us vs UCLA In a bowl game.

Can't wait for a 60 team non-NCAA football super conference to just end this mess.
Or just spin the whole damn thing off campus into a AAA NFL farm leave. Salt Lake Buzz returns with pads

I like your thinking, though B12 is about a half dozen more notches down for me (ACC, Pac/ACC merger, SEC, to-be-named new conf, etc.). In addition to it soon becoming a Group-of-whatever, the B12 is just not a good fit.
It's just that traveling to Starkville, MS or Auburn, AL or Knoxville or Tuscaloosa just isn't that interesting.

Bama, I think everyone in here would love an invite to the SEC.
I just don't think anyone feels it is remotely realistic.
We could be wrong. But Ute fans (not all of them) can be a bit pragmatic at times. Some of us are old enough that the regular losing to BYU in the LaVelle era made us a bit cautious - even with the more recent success.
You must have never been to Knoxville or Tuscaloosa. Those comments are ignorant for someone in a conference with Corvallis and Pullman.
Pre-Big 10 move, sure. But now rules don't matter.
Been to all of them in the past 20 years. Used to regularly visit East Tennessee. Family in west Georgia where we go frequently and drive I-20 through the Southeast on business.
Best part of the trip is that Buc-ees in Alabama on I-20.
Utah folks won't get the reference.
Is it better to be judgmental than ignorant?
Pretty sure most Utah folks are familiar with Buc-ee's.
Starkville and Auburn aren't hot spots but they remind me of Corvallis and Pullman being agricultural communities. I don't think Ute fans would feel less at home in Nashville, Austin or Fayetteville than they would in the Bay Area or Seattle.
I like Oregon State and Wazzu. I wasn't being Judgmental. As someone who has visited all 50 states I am only critical of Boston (love the rest of Mass), Ohio, Indiana and Illinois.
Maybe if they've traveled a lot, but there's none anywhere close to here.
Can't say a thing about Starkville, or Auburn, but Knoxville is a pretty damned nice town. The UT campus, what little I got to see was nice too.
I mean, do most Utes fans not leave the state or have the internet? It's a Texas based company he'll be t on expansion.
I prefer Chattanooga but yeah, Knoxville is nice.