Wear black I guess for the noon kickoff
That's just incredibly lame.
Have had any night games since opener against the Gators so they finally decided to just have it for a day game.
I hope they remember to recognize the Veterans. Yes, it will be early but it would as we are on the road in Seattle on the next weekend, it is what it is.
There's a reason desert dwellers wear white in the sun.
If the CU game ends up being a night game, I'll be pissed.
Although, I'd not want to wear black against a team with black and gold as their colors.
I hope so too, but maybe they just realize they don't have a home game that weekend. Seems like they were going to wear their grey camo, but then later week change to black. Maybe they know something about the CU gametime or maybe just didn't want to wear black for them.
The Colorado game always seems to be a day game. Can't remember the last time we played them at night.
This weekend vs. ASU has been billed all season as the "Salute America" game (and still is)… not sure if that was supposed to be special uniforms, or just a uni patch or something along with a halftime ceremony.
It seems more like somebody just realized they forgot to do "dark mode" this season and decided to work that into what was already planned.
I see on FB that people have called the U and have been told there isn't a blackout. So who the hell knows…
Dumb idea in the middle of the day anyway.
If the weather is cool, you might want to wear black for its heating qualities.



Both utahathletics and utahfootball have it on Instagram. Seems like there isn't a better source than that.
[Insta]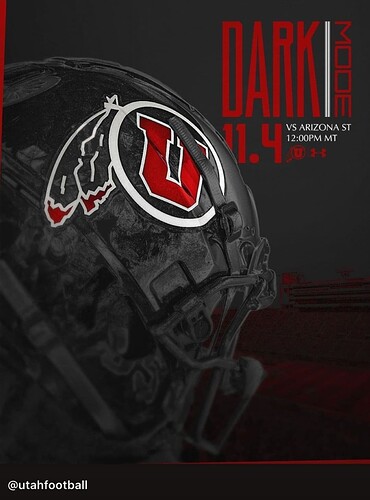 Weird that earlier in the week it was Armed Forces week.
Utah hasn't had a "blackout" in years. That term has fallen out of favor and is now a blackout
It's "Salute America", and it still is.
Last year was unique with the dedicated uniforms. That only happens every few years. What the team wears doesn't really reflect the promotion most games
Ermm say what now? Did you mean "is now Darkmode"?
2019 and 2017 were both night games
Seems like most of the CU games, home and away, have been at night. Which of course is just awesome for late November in SLC and Boulder.