Classic. Looks like she was a good sport about it.
Reading this story today I uttered words that I never thought would come out of my mouth, "He may be better than Mays."
How can a paragraph like this not make a baseball fan smile?
Pitching at the historic ballpark for the first time, Ohtani struck out 11 in seven shutout innings and added two hits — one of them a 109 mph line drive that banged off the Green Monster so hard that it knocked his No. 17 out of the pitcher's slot on the manual scoreboard.
He's a freak of nature. And easy to like. A rare combination.
with the focus on pitching and the infield shifts for left and right handed batters, hitting is down to 7.7 hits per game (less than 4 hits per team per game). The lowest hits per game in the history in baseball.
I like baseball but the game is getting hardet and harder to watch.
I haven't been paying that close of attention so far this year.
But I'm saddened to see that the NL is now using the DH.
You're a big fan of pitchers not named Ohtani batting .041 for the season? I say it's about time that the NL has accepted the use of the DH.
I know why you're really not paying attention, btw, it's because the Cubs stink. Hey, I understand. I'm an A's fan and they stink even worse!
The DH takes an aspect of strategy out of the game, and I submit that the reason pitchers can't hit anymore is there is no incentive for them to even attempt batting practice. Over time that's taken its toll on their BAs.
The strategy parts that I miss are managers having to make pinch hitting decisions not only based on who they have on the bench to put in against the opponent's pitcher, but also with respect to who they have available in the bullpen. The game has morphed so that now teams are only carrying 12 position players and the rest pitchers. That seems out of whack. Perhaps roster composition limits that hold that you have to have an equal number of position players as pitchers, and someone like Ohtani who is intended to do both doesn't hurt either total, would do a couple of things. It could reduce pitching changes where managers just save their two or three smoke throwers to the end of every game to throw 20 pitches or so, also making starters have to pitch longer and get rid of the new trend of, "openers," and add more hitters available to the manager to draw from.
How about this?
When a manager pulls the starting pitcher, he has to pull the DH as well.
The Oakland A's are batting .208 so far this season. I repeat, .208! That's just .08 points above the Mendoza line. They should go ahead and demote the entire team to the minors. It's true that batting in the MLB as a whole has declined in recent years, the whole league is averaging somewhere in the high .230 range, but one cannot ignore the Athletics' particular brand of ineptitude. I suppose this is what happens when you, you know, trade every single decent player away!
One consolation here is that the A's typically sacrifice average in order to hit for power. Oh wait, they have the third fewest HRs of any MLB team so far in 2022? Well, there goes that comforting support.
In case anyone is curious, the record for lowest team batting average of all-time belongs to the 1888 Washington Nationals, who managed a paltry .207 collective batting average. In the "modern era", the 1910 Chicago White Sox stumbled and bumbled to a .211 average. They, of course, had the benefit of achieving this feat during the "Dead Ball Era".
For Oakland fans, the "glass half full" perspective might be to actually root for this record. There's not much else to cheer about. Let's go Oakland!
Sounds like they need a few of the players to go on a slumpbuster. If they need to know what that is they can call Mark Grace.

I'm not a huge baseball fan, but if I'm in a city with an MLB team I'll usually try to attend a game.
We have been in Boston this past week and attended the Red Sox game against the Mariners on Sunday at Fenway. It was a record breaking hot day, about 95 degrees. Still, seeing balls hit off the Green Monster was a lot of fun.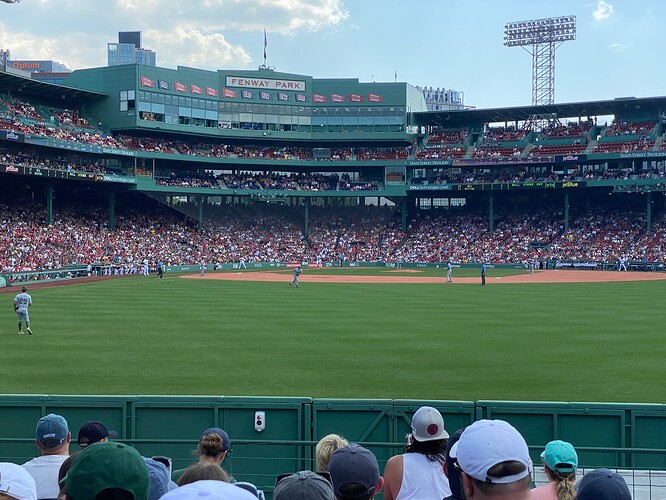 The game was won by the Red Sox in the bottom of the 11th inning by a walk off grand slam by Franchy Cordero. We were in the right field seats one section over from where the ball was hit. The guy who ended up with the ball gave it to our 8 year old nephew.
Then after the game, the kids got to go on the field and run the bases. Overall a memorable day.
This happened last year as well, then spidertack was outlawed and the averages recovered some. Today, some are saying that MLB has deadened the ball this year as well. We might be in a new mini-deadball era.
Yeah, I've read that, too, about the "dead balls". Why MLB would want to take America's Pastime back to the 1910's is beyond me. We know everyone moved and ran a lot faster then, at least, according to the footage, but aren't extra base hits more exciting than stolen bases? No offense to Lou Brock, Ty Cobb and Rickey Henderson, but watching a guy constantly get checked at first base is mind numbing.
All this said, you could tighten up the balls and I still believe the Athletics would be vying for supremacy in the all-time race for batting incompetence.
I was pretty young when Sandy was in his prime, but I remember idolizing him. For a time he was a commentator on NBC's weekly baseball broadcast. He came across as a very thoughtful, soft-spoken and intelligent guy.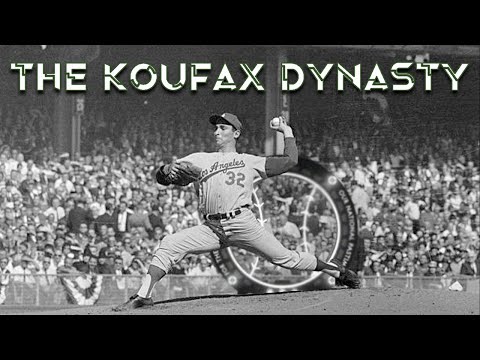 Don't look now, but it's shaping up to be an epic season for the Yankees…



I love great Yankees seasons about as much as I love great Alabama football seasons.

Nothing personal, but I consider baseball season a success if the Yankees and Dodgers both fail to win the World Series.
I hope it's unsuccessful for you!