I read today, this will be te first World Series without a black player since 1950. That's crazy
Willie Mays and Monte Irvin for the giants in 1951. Anybody else? weren't the Yankees the very last team to integrate?
It was the Boston Red Sox with Pumpsie Green in 1959. Elston Howard was the first black Yankee in 1955.
As a side note, there was a reason that the National League dominated the all-star game for so long in the 60's and 70's, more and better integration.
The world is upside down: a Black manager, but no players.
No US born black players I read, I think on Daily Mail headline. Plenty of players from the Dominican I bet. The DM isn't greatest source, but they at least hit surface level stuff decently.
May I just say that I am ashamed of my fellow Yankee fans, booing Judge.
That being said, PLEASE DON'T GO TO SAN FRANCISCO BIG GUY, PLEASE!!!
Judge won't go to those battery chucking, water hoarders. He's going to LA.

If they can get some legit pitching, he would fit in well with Shohei and Mike. If they don't get some pitching, it will be a nice paycheck to collect while hanging with Mike and Shohei.
Yes, if I remember, the original article pointed out that there are several afro-latino (is that the right term) players.
Two things:
He grew up a huge Giants fan, and his family still lives in Fresno (which is an hour or less outside of San Francisco).
An anonymous source within the Giants organization has stated outright that the Giants do not plan to be outbid for Judge. They will beat any price.
I am not incredibly hopeful, especially after those moron Yankee fans booed him in the stadium. I'm not saying whether or not he played badly - he sure did play badly in the playoffs - but they didn't have to boo him. I mean, come on. So damn ridiculous.
As much as it pains me to see it, I think the Astros are just better.
I do have to give them credit for giving Ted Cruz the once over !
Oh, of course - let me be clear. I only condemn the booing of Judge.
…
…
…
…
…
…
…
…
(They can boo Cruz all they want)
Love the quote. Makes perfect sense to me. Allows your pitchers to stay in the game longer.
Ted's greatness was of a truly special kind. So was Dimaggio's. Joltin' Joe struck out something like 300 times in his entire career. He may have been the toughest out in the history of baseball.
And no, I was not alive when they were playing!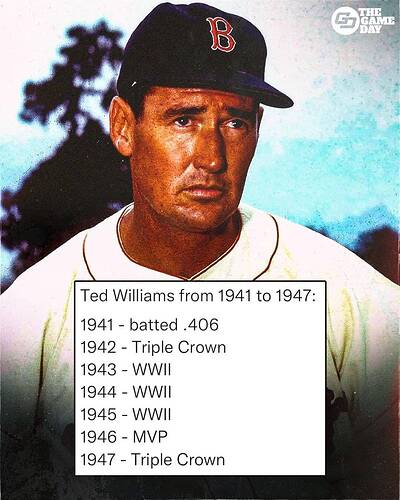 "WWII" was being a decorated Navy fightet pilot.
Ted Williams military service: When a Red Sox legend became a hero - NBC Sports Boston
Man, the things he did in the Marines. Helluva a man. Definitely a person to idolize it would seem.
My dad was a sports announcer for a small Boston area radio station, so I literally ran through Ted Williams, and Carl Yastremski's legs although I really dont remember much.
Bees plan move to Daybreak; Salt Lake City seeks to 'reimagine' Smith's Ballpark