Amen brother. And those hash browns….

This morning I made potatoes O'Brien with corned beef and Denver omelettes for breakfast for the family.
It was tasty.
I still miss the Roundhouse special.
Well I can cook a decent home waffle, but it is the entire OVER THE TOP, out-of-control waffle house experience that I'm looking for.
See this: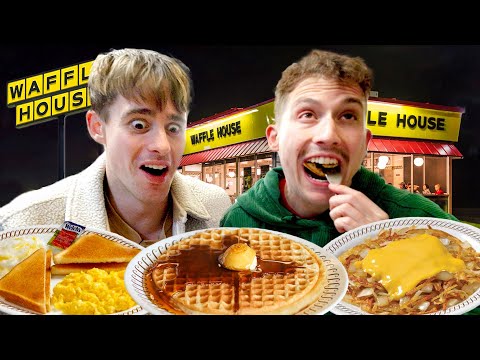 My daughter loves these dudes. No way you can do Waffle House sober. It's def a 3 drinks deep dining location.
I enjoy Waffle House, mostly because I can sit at the counter and watch what is going on. I can't eat there often. Their fare doesn't always agree with me. Like I said before it's not for the food, it's to watch and for the experience. It is interesting to go into one at 6am and see who's sober or not, and how those folks are handling said state.
So a choke and puke to visit when you've been out partying and you have a case of the munchies.
That was Bill and Nadia's back in the day.
This thread is awesome. Starts with a joke about skiing in the SEC and has taken many twists and turns to where the talk is now about good waffles.
Worlds cleanest Waffle House. Where's all the waffle drippings etc…
Our kids grew up in the south and that's the one thing we really miss. Waffle House after Friday Night Lights. For awhile we missed Memphis BBQ, esp Central BBQ (original location) but found Bam Bams in Provo so we're good now.
Central BBQ is very good. I like Memphis style. I also enjoy, Big Bob's in Decatur, Al, Archibald's in Tuscaloosa, Al, and Lexington BBQ in Lexington, NC.
What's wild is the good Mexican and Chinese you can now get in the south and I am heading to New Orleans in a couple weeks where you get spectacular Vietnamese.