Started this podcast with Rich Roll and Malcolm Gladwell. Nails it here:
Wow! Very cool to see a Drum Corps post on Ute fans as it's such a small community. I was in Drum Corps as a kid in the 70's. Marched in the first three DCI finals in the Anaheim Kingsmen.
FTFO!
That is a spectacular gold top Les Paul…
This kid was 11 yrs old at the time !
WOW… Small world eh?/ I marched for Ogden High School (Utah) 1977-1980. SOmeone recently showed me the "FromThePressbox" site which has a fairly exhaustive history of scoring events. Including al the way back to summer 1977 when the high school band went to Edmonton Klondike Days. We marched at a competition next to then-under-construction COmmonwealth Stadium. I looked in the records and yep there we were, 5th place - but we were small, marching around in a block, and doing the high stepping marching… Basically none of us kids had EVER seen DCI before. After I graduated in 1980 2 of my bandmates went off to join SCV, so I've always had a soft spot for them. I attended the very first Corps Encore in Ogden at Weber State stadium, and encountered Phantom Regiment back when they had the capes, pith helmets, the whole 9 yards. I adopted them as well.
It was truly a wonderful thing to see my own experience recorded on that site.
Have you been watching or following at all this year? I invested in the FLomarching site for 2 months, long enough to get to the world finals. The Utah DBC "The Battalion" founded 2014 is going to finals for first time ever.
Very cool! Know many people who marched in SCV in that era because when our corps folded (Anaheim Kingsmen - DCI's first champion) half went off to SCV and Blue Devils. Loved Phantom and their classical music BITD.
I subscribed to FLO this year and I love it. I know who Battalion is. They are an up-and-comer. It was and still is a great activity for young people.
FOund this in case you're interested. Intermission Drum and Bugle Corps is one of the funniest parody things Ive seen in years!
I'm from the Boston area, so I have to star this.
I remember going by a club on Main street Hyannis one summer where all the early bands hit the summer circuit and seeing a band on the marque that said Aerosmith and I said "Dad, what's an Aerosmith" and he replied "I don't know, those hippies cant spell…"
Sorry. Saw this thread and couldn't resist.
RR
As a followup to my post a few weeks back about the joys of Drum Corps International shows, here's a video from last night of our neighbors over in Casper, WY (and one of the original founders of DCI in 1972) The Troopers (thematically based around the 11th Cavalry). They started out fairly simple but sharp, and have managed to survive a massive wave of COVID that had over 40 members out at one time.
They have added some AMAZING theatrical touches for World Championships this week, and most if not all are present in this video.
A lot of you old farts like me who remember when "The Good, The Bad, and The Ugly" came out wayyyyy back in the 60s will recognize one of Ennio Morricone's most brilliant pieces as the centerpiece in this show "The Ecstasy of Gold". What they do for their drill when it blows into final form just leaves you tingling all over!
GhostOfOCGreg, I hope you jive to this as much as I do!
[BTW it is apparently an old tradition to deceptively label these officially no-no uploads to try and fool the YT algorithm or something. HAHAHA

]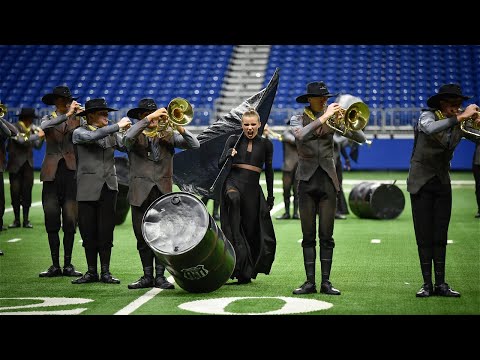 And yes, they were so committed to this theme depicting the wild"voRacious" era of the launch of the oil industry circa 1884 or so, that THEY BUILT A MINIATURE OIL DERRICK…
Now THAT is committment to your craft!
To go along with the Drum and Bugle corps from Southern, and other marching band related posts.
I found this on KSTU's website. Wasn't looking for it, just stumbled across it.
A Utah drum corps made it to the Drum Corp International World Championships. I coudn't have told you such a thing existed, but it's cool none the less. This is the 1st time a Utah based drum corps has made it to the Championships.
Not a whole lot on them playing, but there is a link in the story to their website.