It's always good to remember what happened that day, especially the heroism of so many.
I, too, am impressed with the heroism shown that day. But, and I imagine I could take some heat for this, I'm not sure we shouldn't move past commemorating Pearl Harbor Day. It was 81 years ago and to keep bringing it up doesn't do much to prevent another event like it happening in the world. Perhaps worse, there's been a steady presence of anti-Asian bigotry in this country for over 180 years, and it got visibly worse in the early days of the COVID pandemic. Dwelling on Japan attacking the US, when we've had great relationships with since the end of WWII, doesn't help make that bigotry go away any faster.
You realize today is Dday dont you? I think Dday was the day the Germans bombed Pearl Harbor.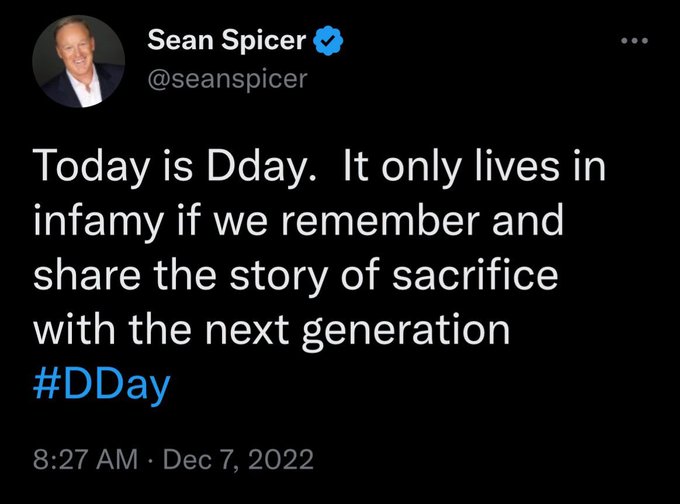 ](https://twitter.com/steve_vladeck/status/1600542333522804736/photo/1)
Alternative facts, again? Good lord.
…Only a stupid, ignorant, unintelligent, knuckle-dragging, epsilon semi-moron rocking a soma high could ■■■■ up D-Day with Pearl Harbor Day.














Then again yesterday chopped an onion to cook in my chili I was making and totally forgot to dump it into the pot. It gets worse because my daughter, who was helping me cook swears we dumped the onion into the pot.






I blame the ICU visit in May.
Don't think Spicey has the same fallback position.
It is easy to confuse Pearl Harbor and D-Day if you're a fan of "Animal House". John Belushi has that funny Pearl Harbor quote, and the Bruce McGill character is called D-Day. It all gets so confusing from there!

The fact that Spicer is currently a commander in the NAVY makes this extra-appalling. What an ignoranus
I like the way you spelled that.
Maybe "D-Day" means Dumb Day in this case.
I wonder how long it will take for 9/11/01 to get to the Pearl Harbor day point.
60 more years?
In all seriousness, I was in NYC this summer and spent time at the 9/11 Memorial. It's very well done from a historical set up standpoint, IMO. It makes the message fine but doesn't demonize all Arabs or Muslims. It's calls them out for what they were: radicals. Most of the memorial focuses on the events and heros of the day. Very much worth the price of admission and a few hours.
Hasn't there been Western distrust of Arabs and Muslims since the Crusades?
I was thinking about what @HoopUte said and I see his point. He raises what for me is the uncomfortable aspect of Pearl Harbor Day: We are remembering an attack on the US by a nation that for decades now has been an excellent ally of our country. On the other hand, it was seen back then as a dastardly surprise attack. Also, almost as many Americans lost their lives as on 9-11.
On balance, I think it's OK as a day of remembrance. That attack started WWII for the US, and that was a catastrophic war that changed the world and our country forever. Similarly, on August 6, the anniversary of the U.S. nuclear attack, Japan has an annual day of remembrance with the Hiroshima Peace Memorial Ceremony. The ceremony's purpose is to "console the victims of the atomic bombs and to pray for the realization of lasting world peace." Maybe we can focus our efforts more and more on that spirit. We seem to be moving in that direction already, focusing more on heroism and sacrifice than on the attack itself, and almost never (in my recent experience) on the Japanese people.
9/11 will never have a similar historical footing as Pearl Harbor Day for a key reason.
We haven't won the war.
Ignoramus: an ignorant person
Ignoranus: an ignorant assh**e
I always note Pearl Harbor day as a result of the fact that my mother had on older brother who died there that day, and my father had an older brother who was there and survived. Growing up, we always noted the day, from a remembrance perspective.
My father served in Korea, before my parents married.
In our home, my Uncle's home, both my grandparents' homes, and any friends I had as a young person, there was never any aspect of Pearl Harbor day remembrance that included anti-Asian bigotry. However, as an adult, I have many close Asian friends, and now a soon-to-be Asian daughter-in-law, so I've seen plenty of anti-Asian bigotry, and completely understand and agree with @HoopUte's sentiment.
My experience with Pearl Harbor Day as a youth was probably atypical.
While the American reaction to Pearl, both official and unofficial, was ardently racist, it was mostly anti-Japanese, not anti-Asian.
After the Pearl Harbor attacks, my dad's three older brothers all enlisted to go fight the war. Two enlisted in the Navy, one in the Army.
Their reason for signing up was the fact Japan started the fight, and they were damned well going to fight to help America finish it.
Ashamed to admit this, but i was a high school junior, and I did not step in for what I knew was wrong. On Pearl Harbor Day our history teacher put a Japanese kid in a chair in the middle of the room and had the other kids throw paper airplanes at him. I didn't participate, but felt shame for not saying anything. A dumb 16-17 yr old kid