This match has been excellent so far.
Notts County 0-1 Wrexham 74'
Notts County 0-2 Wrexham 76'
Hopefully Wrexham can keep competitive. They are off to a good start in the new league.
Remind me - watching Wrexham on hulu. I know they finally moved up, so this is the next league, right? But they are doing well here and is it still top 2 then get promoted to the next level? Notts County was promoted same year? So they are both doing well in the mext level up? That's cool
Edit: just read up. Top 3 from league 2 move up plus next 4 play for last promotion
You are correct, @DataUte.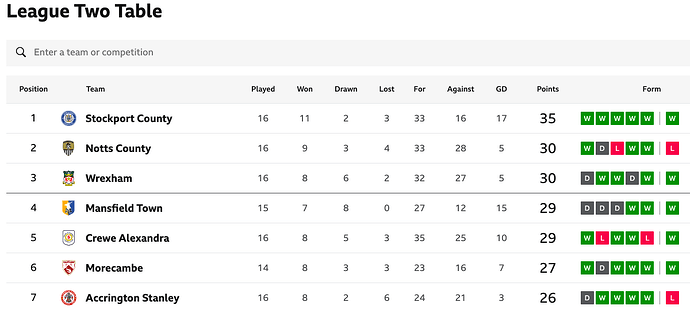 The show has been enjoyable for someone who loosely follows the sport. Kind of like F1 in Netflix. Covers storylines of a season that are interesting, but don't have to watch the races since they end up a little boring and Red Bull/Ver-whatever wins them all these days.
I appreciate the show quite a bit. A good number of the players you see on the early seasons are still on the team with some added gems sprinkled throughout. They are a fun club to watch. This game, in particular, was quite enjoyable.