I don't really watch NBA, but it's so cool reading about them playing together.
Delon's 2.2 steal per game would be enough to lead the NBA in the category, but he has only played in 19 games so he doesn't quite qualify. Hopefully he can keep it up, and will qualify by the end of the season. By the way, he's doing that in only 21 minutes per game. Amazing.
I have a young guy in my group who is from Crenshaw, used to play hoops at Weber, so we talk hoops and the LA basketball scene. Great fun.
He's really familiar with Delon's older brother Dorrell, and said he knows of the summer league Delon was in with his brother right before he came to Utah (when Dorrell was tweeting like crazy about how his younger brother was tearing up this high-end league with NBA guys blended in).
As soon as he was at Utah it was obvious this was a highly unusual talent we hadn't seen since maybe Andre Miller, or what Andre became after getting acclimated to Majerus.
Delon just took over. I remember the first game I watched him in person vs BYU he had 6 assists in the first five minutes of the game. He was on a completely different level than anyone else. "Statsheet stuffer" is what our coaches called him.
Crenshaw guy: "Most people have no idea how good Delon is, because he does all the little things that don't jump off the screen".
My favorite Delon play was in his senior year against BYU. In the second half, he stole the ball at midcourt from Tyler Haws and drove down the court with Haws draped all over him. Then he did an around-the-back move to fool Haws, and dunked on him. Utah went on to win, beating BYU on the road for the first time since '05.
That play encapsulated how Delon played the game at a different level, and he got a 1st round selection after making sure he did what he promised his mom he'd do - get the diploma.
With all the different levels of pro basketball available today, anyone who plays in the NBA for 3 full seasons is a serious talent. That Delon (and Kuzma) are in the decade range is truly remarkable.
My Crenshaw coworker told me about watching a high end summer league game with a lot of good players, names from college, but one team had Royce O'Neal. "The difference was obvious - Royce scored 50 in one game. Just dominant."
Here's the highlight video from that game. Really liked that team. Wright, Kuzma, Poeltl, Taylor, Tucker, etc.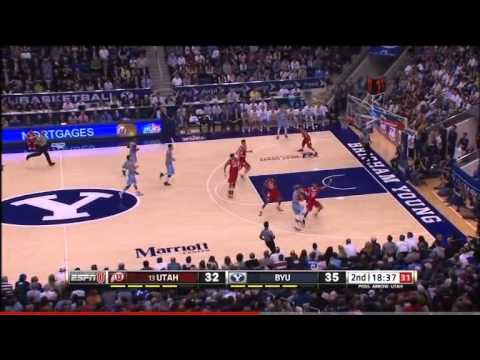 I understand Taylor is still playing somewhere, so that team was the Apex of the Coach K era, IMO. Tucker might still be playing, too, I'm not sure.
That team made it to the Sweet 16 and gave eventual runner-up Duke all it could handle.
Yep, went to that game here in Denver. Was the last good memory of Utah BB in quite a while.
The bench was strong, too. Thought both Bach and Ogbe provided very meaningful minutes.
Loveridge was a key part of that team too. That squad had three solid NBA players and three or four other guys who played or play overseas. Too bad Larry couldn't sustain that. From 2014-2017 or so, I really thought Utah would be back to its glory days.
Speaking of the Kuzma and Wright years, who remembers in 2015 when Utah crushed ASU 83-41 after jumping out to a 41-9(!) halftime lead? Then, the very next year, Utah did almost the same thing when the two teams met in SLC. That year, Utah won at home 81-46 after leading 44-10 at the half. Incredible!
The following Christmas/New Years holiday week, Utah beat Duke at Madison Square Garden. My wife, son and I went and had a great time. I too, thought that Utah basketball was finally back, when in reality, that was the beginning of the long slow slide that eventually saw Krystkowiak fired.
While I follow Utah basketball, I let my tickets go two years ago. I see hope in what Smith is doing, and love seeing the team improving this year, but I rarely post about basketball, as I mostly no longer see too high a likelihood that Utah will ever again rise to the level the program had maintained historically. And no one wants to listen to a negative poster on a fan board. I'd love to be proven wrong.
That same day the football team won the Vegas Bowl.
Yes, a large group of Ute fans (including part of the basketball team and coaching staff), all watched it from the bar at the Marriot Marquis on Time Square - good times

BYU (with Bronconi coaching) went down 35-0 in the opening quarter and Utah held on to win 35-28 (if I recall correctly).
Was that Mendenhall's last game at BYU?
Yes it was. Appropriate that he lost to the Utes.
Yes, and Utah was up 35-0 with still 5 minutes left in the first quarter. On BYU's next drive, Brian Allen nearly had yet another Ute INT in which he would have had a path down the sideline for a TD. Imagine that! Then the team kind of stopped playing.
Yeah, Tolstoy was very flexible.