So as CC member I got this message several days ago, followed by a reminder this morning - I went ahead and RSVP for my "free" ticket. I wonder what it's all about??
29 SEP 2023:
"Thank you for your dedicated support of Utah Athletics!
Over the last two years, Utah student-athletes have benefited from Name, Image and Likeness (NIL) opportunities. To continue the sustained success of our football program, Utah Athletics and the Crimson Club are collaborating with the NIL Crimson Collective to invite you to an exclusive event at Rice-Eccles Stadium on Wednesday, October 4 at 12:45 p.m.
NIL support is essential for the retention of championship-caliber talent and, through the provision of unique entrepreneurial opportunities, complements our success in the classroom with record grade-point averages and graduation rates.
Please see the invitation for more details and RSVP to the Crimson Collective at this link:"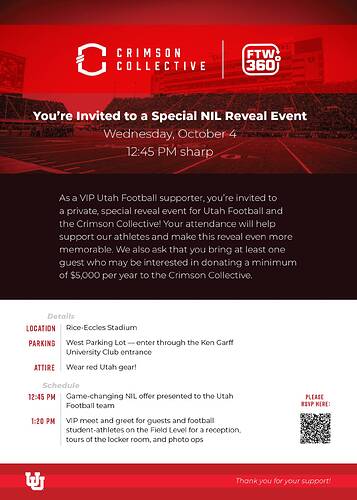 [obviously I'm not bringing anyone who has money… I wonder if they'll still let me in?]
03 OCT 2023:
" On behalf of the Crimson Collective, we'd like to remind you of the big, "Secret Reveal" happening tomorrow, Wed., Oct. 4 at Rice-Eccles stadium! We want to ensure it is truly a surprise, so please be seated by 12:45 p.m. sharp.
Thank you for your continued support of University of Utah football!
It's going to be amazing!"
========================================================
Anyone care to speculate?