Some of the article has been reproduced here…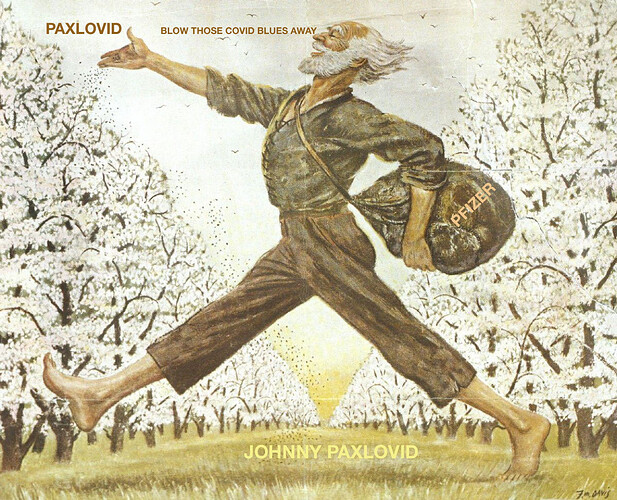 Photoshoped by Yours Truly
At tall tale of caution: All stories are true, and some actually happened.
Last Monday I tested positive for Covid19. I felt like an abject failure. That same day, with the assistance of a close friend of mine – a retired doctor who volunteers still with the state, wrote script for me to get a 5-day regime of Paxlovid. More or less, I knew next to nothing about this drug. But within one hour, I took the first dose of three pills, and within 3 hours I felt better. A week later, less actually, I felt like the Phoenix.
The week prior I took my wife to OHSU in Portland for her checkups with her spine doctor and other physicians she needed to see. The mask mandates in Oregon have been lifted in the face of COVID Subvariant BA.2, or 'Stealth Omicron', a highly contagious form of Covid19. Yet we masked everywhere we went and were among a vast minority to do so. At one point, someone said something to me, and I turned, looked, then responded, "Am I bothering you?" We masked everywhere, in the hotel even when walking alone in the hallways to our room.
But you have to eat and that required one remove their mask. For two mornings, I would venture to the breakfast room, load up a tray, take it up to my wife. But one day, the day we completed our visits with great results, we threw caution to the wind so to speak, and eat out at a trendy pizza place we knew in Lake Oswego. We asked to be seated in a corner end at the bar and for a bar stool to be removed to help isolate us. But what I did not realize was that put me adjacent to the frequently occupied work space of the restaurant owner. She was literally breathing down my neck a few times. After considerable reexamining of our movements, this is the only time we "let our guard down." The next day, Thursday we drove home.
On Friday, I had an early afternoon appointment at Costco to receive my second booster. I chose Moderna, while all of my earlier vaccines were Pfizer. My PG thought that was a smart move and he approved it. I had zero reactions to those shots and wondered what Moderna would bring. That night, I did not sleep well, while that could have been because I rewatched for the last time the 2021 BYU-Utah football game that would make any Ute fan sick. The Utes as we know looked inept, unprepared. As I was for Covid.
The next morning, Saturday, I knew I was a bit tired but a guy who helps me trim up low branches and the dead parts of bitter brush, sage and rabbit brush to help defend our property from potential wildfires was waiting for me. He was coming early and I always work with him for the four hours he is here. When he left, I was literally wiped, and thought to myself, Moderna has more side effects than Pfizer. That night, I again sleep quite poorly.
On Sunday, I got up with a slight sore throat and a drip in my sinuses, but no aches. I am allergic to juniper pollen and the day prior I overdosed on it. Maybe I have onset of a sinus infection, I thought. By late Sunday, I put on a heavy flannel shirt, a fleece on top of that, I started to shiver, my fever was 99.5, for me 1.1° above my normal. That night I sleep moderately well, drank lots of water, stayed warm but could not stop feeling cold. Still, no aches, minor coughing, nothing settling in my chest but I did have a massive sore throat.
The next morning Monday, my fever hit 100.5°. We broke out one of the USG Covid tests, with my wife saying, this is going to be a waste of one test. You have the flu the flu shot did not cover. I was not so sure and by then was retracing our timeline though my head. The timeline matched the incubation period for Covid from our misadventure in Lake Oswego. Within 3 minutes of the 15 minute cure time for the test, the positive result become unequivocal. I had Covid.
I called my PG immediately, 10AM, which turned out to be like trying to break into Fort Knox. Soon a triage nurse was telling me what to do to get monoclonal antibodies, if I qualified. Five hours later we had no call back to confirm what we needed to do, so my wife called my PG again. This time an admin for his office told us that everything the triage nurse told us was in error, dead wrong. I'll still get the bill and have to pay it.
I let my gardener know, and later, a few guys on UF.N, too embarrassed to announce to the world that I have become a virus vessel.
I don't remember how my wife left it with them, to be frank, but she immediately called my buddy, the doctor. He told her to forget about monoclonal regime as it was inferior and instead go for Paxlovid. What? He said he was dropping everything and making it his mission to get me sorted with this 'amazing' Pfizer drug. Apparently he called six major pharmacies in Bend and none had supply, most had not ever heard of Paxlovid. He then called the regional hospital, and as he retells it, 'pulled his doctor card.' He got to the hospital pharmacy and learned that because they had zero demand for the drug, they gave all their stock – from the USG – to a nearby not-a-chain pharmacy that serves the hospital. After a few more maneuvers with the pharmacy (I will leave that out intentionally) he called my wife to say he had personally written script and to be prepared to pick it up.
The pharmacy called me, and her, and without further drama, I downed my first dose 25 minutes later. Within 3 hours of taking Paxlovid, a five day regime, I could tell something positive was going on. It took all of my strength to avoid downing a cup of bleach and calling a vet I know begging for a heavy dose of Ivermectin.
At 6:00PM my PG called. My wife ran through the day's events. He has not aware that Paxlovid was locally available. My wife sent him loads of material on it and where to find it. He was pleased I got treated. That day, inside our home, we isolated. Me in one room, my wife in another. She'd call me to get dinner, we stayed apart.
The next day I felt like a new man, but it still took three more days for the sore throat to go completely away. A few days later my wife took a home test, negative. Thank the Almighty, my dream of March 2020 that my wife and I would succumb to Covid was not going to happen this month.
Be safe, stay safe. We may be done with Covid, but its not done with us.
https://www.nasdaq.com/articles/the-case-for-testing-pfizers-paxlovid-for-treating-long-covid
Glad you're ok buddy. I remember the Pfizer drug come out with fanfare and then faded, mostly because it was on the downslope of the omicron surge. But they pushed - get tested at a pharmacy and get the drug immediately if you are positive. Then people just started testing from home (or not).
Glad you're well now! That's an important story for all of us. Thank you!
Thanks for sharing the story. Glad you are on the mend.
Oh, and COVID will get all of us sick eventually, just like the Flu. You did your part to avoid getting it, and did the right things when you found out you had it. If others were as responsible in their actions, things would've been a lot different locally, regionally, and nationally.
Now if I could just quit getting every form of bacterial infection known to man, that would be just great.
Donald McNeil was the New York Times science reporter and covered COVID, SARS, and other pandemic/epidemic stories. Now he's on his own and has written a lot of interesting pieces on all facets of COVID and its variants. Here's one of them, along with links to others.
From the news notes in the Wall Street Journal:
1. Covid-19 pills will become more widely available. The Biden administration is expected to announce plans to double the 20,000 pharmacies, community health centers and hospitals where the antivirals are now available for patients. People can take Pfizer's Paxlovid and Merck's and Ridgeback Biotherapeutics' molnupiravir, also known as Lagevrio, at home shortly after they develop symptoms, helping prevent hospitalization.
From Politico today:
Nearly 60 percent

The percentage of the U.S. population that has antibodies due to Covid-19 infection, according to the Centers for Disease Control and Prevention, a steep rise that marks the first time during the pandemic when more than half of Americans have shown evidence of the virus infection.
Another Rare Virus Puzzle: They Got Sick, Got Treated, Got Covid Again
Washington Post
April 27, 2022
Shortly after he served on a jury in March, Gregg Crumley developed a sore throat and congestion. The retired molecular biologist took a rapid test on a Saturday and saw a dark, thick line materialize — "wildly positive" for the coronavirus.

Crumley, 71, contacted his doctor two days later. By the afternoon, friends had dropped off a course of Paxlovid, a five-day regimen of antiviral pills that aims to keep people from becoming seriously ill.

The day he took his last dose, his symptoms were abating. He tested each of the next three days: all negative.

Then, in the middle of a community Zoom meeting, he started feeling sick again. Crumley, who is vaccinated and boosted, thought it might be residual effects of his immune response to the virus. But the chills were more prolonged and unpleasant. He tested. Positive. Again.

Crumley, like other patients who have experienced relapses after taking Paxlovid, is puzzled — and concerned. On Twitter, physicians and patients alike are engaged in a real-time group brainstorm about what might be happening, with scant evidence to work with.

It is the latest twist — and newest riddle — in the pandemic, a reminder that two years in, the world is still on a learning curve with the coronavirus.

Infectious-disease experts agree that this phenomenon of the virus rebounding after some patients take the drug appears to be real but rare. Exactly how often it occurs, why it happens and what — if anything — to do about it remain matters of debate.

What's clear is that patients should be warned it is possible so they don't panic — and so that they know to test again if they start feeling ill. More data is needed to understand what is going on. Paxlovid, made by the drug giant Pfizer, remains a useful drug, even though it has sparked a new mystery.

"I'm not negative on Paxlovid," said Crumley, who lives in Philadelphia and whose last positive test was a week after his second wave of illness began. "I don't know whether it's just stopping [viral] replication for that five-day period of time, and it comes back."

One of the top worries accompanying antiviral drugs is the threat of resistance, when the virus evolves to evade the treatment. A Food and Drug Administration analysis of Pfizer's clinical trial of the drug showed the virus rebounded in several subjects about 10 to 14 days after their initial symptoms but found no reason and no evidence that their infections were resistant to the treatment.

Michael E. Charness, chief of staff at the VA Boston Healthcare System, published a detailed case study of one 71-year-old patient who had a relapse. The man, who was vaccinated and boosted, received Paxlovid and quickly felt better. When he developed cold symptoms a week after his case of covid had resolved, researchers sequenced the virus's genetic code and found it was the same virus surging back. That ruled out a reinfection, the emergence of a variant or the virus becoming resistant.

Charness would like to see more data and other questions answered. Should antivirals be given longer, to assure the virus is cleared? Should people be treated a second time? What are the implications for people returning to their normal lives?

"If you have a resurgence of viral load, and that happens on day 10, when CDC says you're back to work, no mask, what are you supposed to do about isolation? Is that a moment when you're contagious again?" Charness said. "The person we studied, we advised to isolate until their viral load was gone the second time."

The antiviral drug Paxlovid is taken for five days.

Pfizer is collecting data, in clinical trials and in real-world monitoring of the drug's use. The company's trial data indicates there is a late uptick in viral load in "a small number" of people who take the drug, but the rates appear to be similar among study participants given a placebo, according to company spokesman Kit Longley. The people who experienced such increases also did not develop severe disease the second time around.

Those findings suggest that Paxlovid isn't the reason people are relapsing, because that's happening in untreated people, too.

If that turns out to be true, it raises the concern that some people — whether they have taken the drug or not — could be infectious long after they think they are in the clear, and after guidelines suggest they can stop taking precautions.

"Although it is too early to determine the cause, this suggests the observed increase in viral load is unlikely to be related to Paxlovid," Longley wrote in an email. "We have not seen any resistance to Paxlovid, and remain very confident in its clinical effectiveness."

The limited evidence leaves most physicians favoring the idea that Paxlovid knocks the virus down but doesn't knock it out completely. It's possible that by holding the virus in check, the immune response doesn't fully ramp up, because it doesn't see enough virus. Once the treatment ends, the virus can start multiplying again in some people.

Philip Bretsky, a primary care doctor in Santa Monica, Calif., said he has encountered two cases among patients, both of whom were vaccinated and boosted at least once.

A double-boosted 72-year-old who had chronic medical conditions that raised his risk for severe illness started to feel unwell at the end of March. He tested positive and began a course of Paxlovid. He felt better and tested negative. Then, 12 days later, he started feeling crummy again — and tested positive.

Reinfection seemed improbable, and Bretsky thought resistance was unlikely with a five-day course of treatment.

In well-vaccinated people, being reinfected so quickly would be "like getting struck by lightning or winning the lottery," Bretsky said. "I don't think this is reinfection. I think this is recrudescence of the original infection."

Experts don't know how common this phenomenon is. Many people may not test if they get sick again after their initial infection has receded, making it hard to track.

That almost happened to Holly Teliska, 42, of San Francisco. Teliska got sick shortly after returning home from a trip to New York. She has a risk factor for severe illness and got access to Paxlovid right away. When she finished her treatment course, she took a home PCR test that was negative and felt much better, though remained fatigued.

Four days later, she came down with a runny nose and cough. She assumed she had caught her daughter's cold and powered through. Five days later, with plans to visit an immunocompromised friend, she took a test.

Teliska almost felt silly testing herself. She had been vaccinated and boosted, then infected.

"We've been saying I'm her safest friend now, now that I've had covid, so for three months, I can go spend time with her pretty safely," Teliska said. "That really threw that narrative out the window. … This entire experience has been a real reminder there is still so much to learn."

Paxlovid is new. It only began to be used in December, so reports people share on social media of resurgent illness may be the tip of the iceberg — or might simply reflect the eagerness to learn more about a rare, intriguing outcome.

If such cases turn out to be exceedingly rare, then these case reports may be a sporadic curiosity — something to warn patients could happen. If more common, it could lead to tweaks in treatment regimens.

The mounting anecdotes are compelling to many physicians, but it's also possible the virus might rarely rebound. Yonatan Grad, an associate professor of immunology and infectious diseases at the Harvard T.H. Chan School of Public Health, has studied the viral loads of NBA players and staff during the course of an infection. That data, he said, shows that viral loads can bounce around.

What's "exceptionally uncommon," Grad said, is for the viral load to plunge for a few days to a level that suggests they are negative and then go up again.

Paul Sax, an infectious-diseases specialist at Brigham and Women's Hospital in Boston, recently shared the story of a patient who became infected and then relapsed after taking Paxlovid. He has heard from lots of colleagues with similar stories. But the anecdotes raise more questions than they answer.

Even if the virus has not been shown to develop resistance to the treatment during a resurgence, that's doesn't mean it won't happen, he points out. Does the treatment knock the virus down so successfully that people aren't generating a robust immune response? That could have implications for understanding whether being infected acts as a potent booster.

The phenomenon is so new that many doctors aren't aware of it. Jennifer Charness, a 31-year-old nurse who lives in Brookline, Mass., had the benefit of knowing about her father's work at the Boston VA.

Charness started sneezing in early April and got a blaringly positive coronavirus test. She has a history of asthma and was prescribed Paxlovid. As she took the drug, she saw her positive test line grow fainter and her symptoms resolve. She swabbed to make sure she was negative before going back to work, as a precaution. Then, two days later, she felt the symptoms come back and tested positive — again.

"I'm so frustrated," Charness said. "I don't think I'm going to get very sick. It's the concern of what does this mean for my viral load, and how contagious am I? And when will I not be contagious? I'm stuck back in my home again."

Charness's primary concern is that she doesn't pose a risk to anyone else. She consulted a doctor via telemedicine Friday. The practice hadn't heard of any cases like hers and decided to treat it as a reinfection and reset the isolation clock.

"I'm Day 4," she said. "Or am I Day 13?"
I have decided that COVID was brought to Earth by sadistic aliens from outer space. It is an insidious tool they will use to bedevil us for a while, then they will move in and take over. Vladimir Putin is one of them. This is what he looks like when not in costume: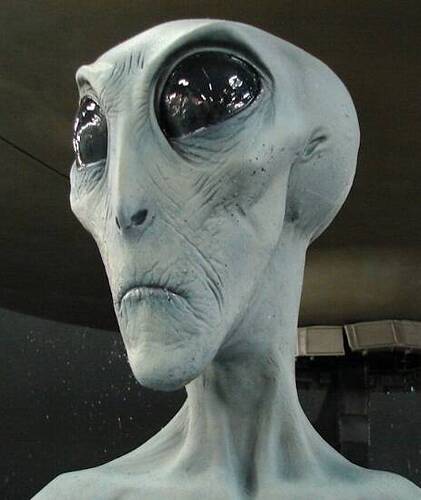 …and they are trying to normalize it by promoting TV Shows like Resident Alien.

You really should post this on Truth Social. Commenting that the alien overlords absolutely love TFG. And they you have "unimpeachable" evidence.
https://www.washingtonpost.com/health/2022/05/01/coronavirus-more-mutations/
Health
Virus mutations aren't slowing down. New omicron subvariant proves it.
By Joel Achenbach
May 1, 2022|Updated May 1, 2022 at 5:00 p.m. EDT
Coronavirus testing sites remain in business more than two years after the pathogen emerged. A medical worker administers tests April 18 in New York. (Spencer Platt/Getty Images)

During those terrifying early days of the pandemic, scientists offered one piece of reassuring news about the novel coronavirus: It mutated slowly. The earliest mutations did not appear to be consequential. A vaccine, if and when it was invented, might not need regular updating over time.

This proved overly optimistic.

The coronavirus, SARS-CoV-2, has had billions of chances to reconfigure itself as it has spread across the planet, and it continues to evolve, generating new variants and subvariants at a clip that has kept scientists on their toes. Two-and-a-half years after it first spilled into humans, the virus has repeatedly changed its structure and chemistry in ways that confound efforts to bring it fully under control.

And it's not showing signs of settling down into a drowsy old age. Even with all the changes so far, it still has abundant evolutionary space to explore, according to virologists who are tracking it closely. What that means in practical terms is that a virus that's already extremely contagious could become even more so.

"This virus has probably got tricks we haven't seen yet," virologist Robert F. Garry of Tulane University said. "We know it's probably not quite as infectious as measles yet, but it's creeping up there, for sure."

The latest member of the rogue's gallery of variants and subvariants is the ungainly named BA.2.12.1, part of the omicron gang. Preliminary research suggests it is about 25 percent more transmissible than the BA.2 subvariant that is currently dominant nationally, according to the Centers for Disease Control and Prevention. The CDC said the subvariant has rapidly spread in the Northeast in particular, where it accounts for the majority of new infections.

"We have a very, very contagious variant out there. It is going to be hard to ensure that no one gets covid in America. That's not even a policy goal," President Biden's new covid-19 coordinator, Ashish Jha, said in his inaugural news briefing Tuesday.

He was answering a question about Vice President Harris, who recently tested positive for the virus and went into isolation. Harris had recently been boosted for the second time — her fourth shot of vaccine.

How coronavirus variants like omicron form and spread

Coronavirus variants like omicron, delta and mu are an expected part of the virus's life cycle, but vaccines can prevent more infectious variants from forming. (Video: John Farrell, Hadley Green/The Washington Post)

Her case highlights what has become painfully obvious in recent months: No amount of vaccination or boosting can create a perfect shield against infection from SARS-CoV-2. What the vaccines do very well, however, is greatly reduce the risk of severe illness. That is hugely consequential as a matter of public health, as is the wider use of therapeutics, such as the antiviral Paxlovid.

The vaccines currently deployed were all based on the genomic sequence of the original strain of the virus that spread in late 2019 in Wuhan, China. They essentially mimic the spike protein of that version of the virus and trigger an immune response that is protective when the real virus shows up.

But the variants that have emerged can evade many of the neutralizing antibodies that are the immune system's front line of defense.

"It's evolving at a fairly rapid rate," said Jesse Bloom, a computational biologist at the Fred Hutchinson Cancer Research Center in Seattle. "I do think we need to aggressively consider whether we should update vaccines, and do it soon."

Vaccines have reduced the virus's worst effects. Community of Hope clinical nurse manager Imani Mark injects Ezekiel Akinyeni with a shot July 31, 2021, in D.C. (Craig Hudson/For the Washington Post)

BA.2.12.1 brings the novel coronavirus up another step on the contagiousness scale. Its close relative, BA.2, was already more transmissible than the first omicron strain that hit the country in late 2021.

And omicron was more transmissible than delta, and delta was more transmissible than alpha, and alpha was more transmissible than earlier variants that did not have the glory of a Greek alphabet name.

Most mutations are not advantageous to the virus. But when a mutation offers some advantage, the process of natural selection will favor it.

There are two fundamental ways that the virus can improve its fitness through mutation. The first could be described as mechanical: It can become innately better at infecting a host. Perhaps it improves its ability to bind to a receptor cell. Or perhaps the mutation allows the virus to replicate in greater numbers once an infection has begun — increasing the viral load in the person and, commensurately, the amount of virus that is shed, potentially infecting other people.

The other strategy involves the workaround of immunity. The human immune system, when primed by vaccines or previous infection to be alert for a specific virus, will deploy antibodies that recognize and neutralize it. But mutations make the virus less familiar to the immune system's front-line defense.

The omicron subvariants keep coming: Scientists in South Africa have identified BA.4 and BA.5, which have mutations that were seen in earlier variants and are associated with immune evasion. Caseloads there are rising. New laboratory research, posted online Sunday but not yet peer-reviewed, indicated that the emerging subvariants are adept at eluding the neutralizing antibodies seen in people who recovered from infections with the original omicron variant. The authors of the study concluded that BA.4 and BA.5 have the "potential to result in a new infection wave."

What to expect from the BA.2 'stealth' omicron variant

The BA.2 "stealth" omicron variant is expected to soon become the dominant strain. Here is what you need to know about a possible new wave of infections. (Video: Brian Monroe, John Farrell/The Washington Post)

"The evolution is much more rapid and expansive than we initially estimated," said Michael T. Osterholm, a University of Minnesota infectious-disease expert. "Every day I wake up, I fear there will be a new subvariant that we will have to consider. … We're seeing subvariants of subvariants."

Garry, the Tulane scientist, points out that mutations in the virus do not change its appearance dramatically. In fact, he said, even the heavily mutated variants don't look much different from the original Wuhan strain, or different from other coronaviruses that cause common colds. These are subtle changes.

Garry has a software program that allows him to create a graphic image of the virus, and even rotate it, to observe the locations of mutations and draw inferences for why they matter. On Friday, asked about BA.2.12.1, and why it is spreading, he noted it has a mutation, named S704L, that probably destabilizes a portion of the spike protein on the virus's surface. That essentially loosens up part of the spike in a way that facilitates infection.

This S704L mutation distinguishes this subvariant from BA.2.

The "704" refers to the 704th position for an amino acid on a chain of roughly 1,100 amino acids that form the protein. The S is one type of amino acid ("serine") seen in the original strain of the virus, and the L ("leucine") is what is there after the mutation. (The mutation is caused by a change in one nucleotide, or "letter," in the genetic code of the virus; three nucleotides encode for an amino acid.)

The virus is spreading today in the United States on an immunological landscape much different from the one it first encountered in early 2020. Between vaccinations and infections, there aren't many people entirely naive to the virus. The latest CDC data suggest the virus has managed to infect nearly 200 million people in the nation, which has a population of about 330 million. Among children and teenagers, about three out of four have been infected, the CDC estimates.

For the new CDC study, researchers looked at blood samples from thousands of people and searched for an antibody that is found after a natural infection, but not found after vaccination. The CDC concluded that the omicron variant managed to plow through the United States population during the winter almost as if it were an entirely new virus. The country by then was largely vaccinated. And yet 80 million people, approximately, became infected for the first time in that omicron wave.

On the family tree of this coronavirus, omicron is a distant cousin of delta, alpha and the other variants that had spread earlier — it came out of virologic left field. No one is sure of the origin of omicron, but many disease experts assume it came from an immunocompromised patient with a very lengthy illness, and the virus continued to use mutations to evade the immune system's efforts to clear it.

Technicians inside a high-security coronavirus research lab in Durban, South Africa, on Dec. 15, 2021. (Waldo Swiegers/Bloomberg)

Omicron was mercifully less likely to kill a person than previous variants. But infectious-disease experts are clear on this point: Future variants could be more pathogenic.

As if mutation wasn't enough of a problem, the virus has another trick up its sleeve: recombination. It happens when two distinct strains infect a single host simultaneously and their genes becoming entangled. The recombination process is the origin of what's known as omicron XE. That recombinant probably emerged from a person co-infected with the original omicron variant and the BA.2 subvariant.

It was always possible in theory, but the identification of actual recombinants provides "proof of concept," as Jeremy Luban, a virologist at the University of Massachusetts Medical School, puts it.

The worst-case scenario would be the emergence of a variant or recombinant that renders current vaccines largely ineffective at blocking severe disease. But so far, that hasn't happened. And no "recombinant" has spread like omicron or other recent variants and subvariants.

This is the first catastrophic pandemic to occur in the age of modern genomic sequencing. A century ago, no one knew what a coronavirus was, and even a "virus" was a relatively new concept. But today, with millions of samples of the virus analyzed at the genetic level, scientists can track mutations virtually in real time and watch the virus evolve. Scientists across the planet have uploaded millions of sequences to the database known as GISAID.

Genomic sequencing has a major limitation in that, although scientists can track changes in the genome, they don't automatically know what each of those changes is doing to the virus. Which mutations matter most is a question that can be discerned through laboratory experiments, modeling or epidemiological surveillance, but it's not always simple or obvious.

Erica Saphire, president of the La Jolla Institute for Immunology, speculates that omicron has mutations that have changed the virus in ways not yet understood but which make it more resistant to antibody-mediated neutralization.

"It may have acquired some new trick that we haven't uncovered yet," Saphire said. "It's harder to neutralize than I would have expected, based on the number of mutations alone."

A reality check comes from Jeremy Kamil, associate professor of microbiology and immunology at Louisiana State University Health Shreveport: "These are all SARS-CoV-2."

What he means is that these are all variations of the same virus, despite what seems like a tremendous amount of mutation. Correspondingly, someone who gets infected with one of these new variants has the same disease as people who got infected previously.

"They got covid," he said.
I don't think this is surprising at this point.
Yet China is still doing hygeine theater disinfecting everything with cloud sprayers.
Right. It's not working very well for them, however.
May 5, 2022
Evidence Mounts For Need To Study Pfizer's Paxlovid For Long Covid - Researchers Say
CHICAGO, May 5 (Reuters) - Additional reports of patients with long COVID who were helped by Pfizer Inc's (PFE.N) oral antiviral treatment Paxlovid offer fresh impetus for conducting clinical trials to test the medicine for the debilitating condition, U.S. researchers said on Thursday.

Three new case studies follow earlier reports of long COVID patients who experienced relief of their symptoms after taking the treatment, which is currently only authorized for high-risk people early after onset of COVID symptoms. read more

As many as 30% of people infected by the coronavirus are believed to develop long COVID, a condition that can last for several months with symptoms including fatigue, rapid heartbeat, shortness of breath, chronic pain, brain fog and muscle weakness. It affects people who have had both mild and severe COVID-19, including children, and can be severe enough to keep people out of work.

In a report published this week ahead of peer review, University of California, San Francisco (UCSF) researchers detailed cases of three patients who developed long-term symptoms after COVID-19 infections.

In two of the cases, the patients "were able to access Paxlovid antiviral therapy and feel that their long COVID symptoms improved substantially," said Dr. Michael Peluso, whose was published online on Research Square.

In the third, a patient was given the drug as prescribed to treat an acute infection. While his symptoms improved at first, they rebounded shortly after he stopped taking the drug, and the man later developed long COVID.

"There's been a lot of hope that early antiviral therapy, in addition to preventing severe COVID, will prevent long COVID. And that might be true, but this case suggests that it won't be true 100% of the time," Peluso said.

All three patients, who were in their 40s and had previously been vaccinated against COVID-19, were enrolled in the UCSF long COVID trial known as LIINC.

The cases are not definitive, but they offer clues about long COVID, a poorly understood condition that has left researchers scrambling to find its possible causes.

"It provides evidence that we really need to study this soon, and … systematically, which means randomized trials," said Peluso.

He said the UCSF team would love to conduct such a study, but it would require funding from agencies such as the National Institutes of Health, and the drugmaker.

Pfizer spokesman Kit Longley said company does not have any current long COVID studies underway, but was monitoring data from ongoing clinical studies and real-world evidence, and may explore the issue further.

"Collectively, there is now ample rationale to design and implement prospective controlled studies of antiviral therapies, including Paxlovid," said Dr. Steven Deeks of UCSF and a senior author on the study.